Friday, August 18th:  (One night only!)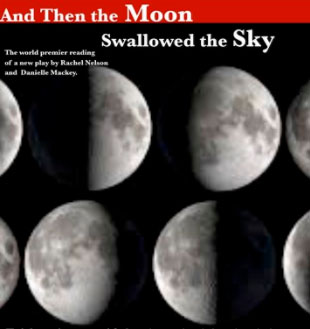 Last December I received an e-mail from Rachel Nelson who was working on a play about the upcoming solar eclipse and was looking for a theater in the Northwest where she could present it.  One thing led to another and she will be here next week with her play and a training class for our local actors.
We (The Actors Theater) will be presenting the world premiere reading of  "And Then the Moon Swallowed the Sky", by Rachel and Danielle Mackey,  for one night only:  Friday August 18, at 7:30 p.m. at the Grange.
"In an uncertain world, three women make a pilgrimage across time and space to see the total eclipse of the moon seeking transformation and healing. Instead, they come face to face with themselves."
This performance takes place between the August partial lunar eclipse and just before the upcoming solar eclipse that many have been eagerly anticipating.
Local actors will be reading the play for its premiere, and Rachel Nelson and cast will have a talkback session with the audience after the reading.
This is a rare opportunity to see a world premier and meet the playwright.  Don't miss it.
Tickets are $10 at the door or at Darvill's

Doug